Michaela Pašková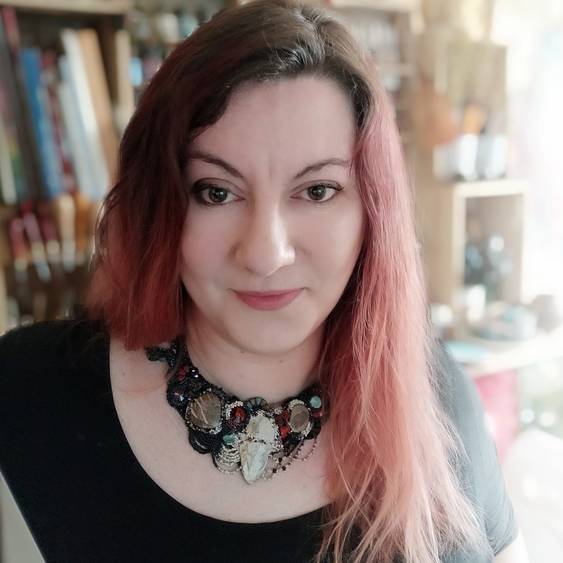 I simply like beads. For me they are my hobby, my leisure, my work, but often also a serious form of procrastination. I am a creative being to the bone and a freelancer. My job consists of graphic design, painting, various art techniques and workshops, screen printing, calligraphy, all the way to custom wedding invitations.
And once I discovered beadwork and I never left it. I came to really like bead embroidery and freeform. I even create my own cabochons and components from various materials and natural resources, I experiment, combine materials and technologies. My inspiration is nature in all its forms and seasons, history, stories, legends, places... I try to tie my moods, memories and fantasies into the jewelry and let them stand out and shine.
As I see it, jewel is a fashion accessory, but one of a kind piece of jewelry can also be something more. It can be a talisman, an imaginary shield, or even a figurative armor. It is almost unbelievable how a woman, who almost never wears jewelry, can change when she gathers the courage and puts on an expressive and eye-catching necklace. Not only on the outside, but inside as well. And it brings me the most joy.
But it was a long way for us to be able to make jewelry out of thousands of beads, and this journey of course had its beginning. So here I give you tutorials especially for beginners or intermediate jewelers to be able to not only learn to sew jewelry, but to also have fun doing it and wear their creations themselves or give them to their loved ones.